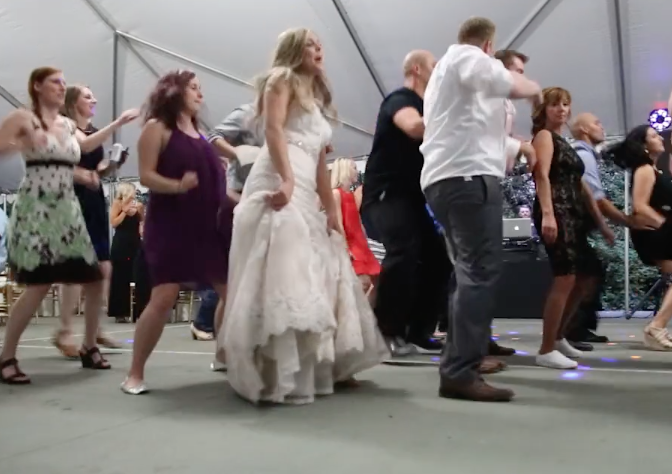 Planning a wedding may get chaotic, but the key is to stay calm and get organized. If you don't have a full wedding planner to assist you through the process, don't stress. You can do it. Let's look at a few basic Wedding Mobile DJ Checklist items to think about regarding your wedding day in Southern Oregon or the surrounding area.
The DJ plays an instrumental role in the organization of the day as they have the microphone and should keep things flowing for you and your guests.
Background – Wedding DJ
How long have they been DJing weddings and other events in Southern Oregon?
Do they have the experience that you are going to feel confident in?
Are you able to contact the last couple they performed their wedding DJ services for?
What sort of advertisement do you do at weddings? – They shouldn't advertise at all but putting some business cards out on the their table might be acceptable. It's not a wedding expo – don't allow banners or announcements!
What is the backup plan if they can't make it?
Are there any other services the DJ can offer or assist with (uplighting, dance floor, photo booth, wedding video, audio recordings of vows or toasts, etc)
Music – Wedding DJ
How does the DJ keep their music library up to date? How do they obtain their music?
Do they have specific dances or ceremony song ideas or suggestions?
How does the DJ get the crowd motivated to dance?
Do they allow requests?
Are you able to submit a do-not-play list if necessary?
Equipment – Wedding DJ
Does the mobile DJ have two systems? – Often times you are going to have a ceremony in a different location than the reception and you don't want them to have to break the system down completely and relocate it during the event and cause a major break in the music action.
What wireless microphones do they have for the ceremony? – Don't settle for a handheld mic for everyone. It's a lot for the wedding officiant to mess with and maintain their notes too.
Is there any dance lighting included?
Do they have DJ backup equipment (speakers, music source, mics, etc) if something unforeseen happens?
Pricing – Wedding DJ
What all is included in the price they quoted you?
What does the mobile DJ contract look like?
Do they charge for setup and breakdown?
Do they have a travel charge for your specific wedding or event location?
What is the deposit to hold the date?
What is the cancellation policy?
Other – Wedding DJ
Are they insured?
What additional information do you need prior to the event day?
Make sure you have a wedding mobile DJ you can depend on and feel good about. Don't settle for a crazy low-ball rate unless you know for a fact what you're getting from it. I know my first year DJing weddings I charged less than half of what I do now but I also barely had a clue as to what I was doing.
Ultimately, don't take choosing a wedding DJ lightly. You want your reception to be remembered by all your guests as an amazing time.
Choosing a Wedding Mobile DJ – Southern Oregon